Staying in shape difficult? Here are 8 easy ways to stay in shape at the office.
Many of you work, while trying to balance your home life. This often leaves less time for yourself to stay in shape, something many of us desire. I found an article that you would like that give you 8 different ideas on how to stay in shape at the office.
The Desk Jockey Workout: 8 Ways to Stay in Shape at the Office
by Brett & Kate McKay on July 24, 2012 · 61 comments
For most of human history, work has been a physically demanding activity. Our cavemen ancestors chased down mastodons and hurled spears into their tough, but tasty flesh, American homesteaders tamed the wilderness into productive farms with nothing but grit and sweat, and just 60 years ago, the majority of men in America flexed their muscles on factory floors or construction sites.
Fast-forward to today.
Instead of feeding ourselves by the sweat of our brows, most of us just slouch in a chair all day in a climate-controlled building while we push buttons and send documents through the ether. And the sitting doesn't end after work. When we get home, we plop down in front of the TV to watch reality shows of men performing the kind of virile, physical, and often dirty work we fantasize about doing while answering emails in our cubicle.
Man's transition from callused-handed, blue-collared laborer to soft-handed, white-collared desk jockey has done a number on us physically and mentally. Not only have our desk jobs made us weak, flabby, and stiff, sedentary work is sapping the very hormone that makes a man a man: testosterone.
What's more, all this sitting is slowly eating away at our life meters. One study showed that men who sit for more than six hours of their leisure time each day had a 20% higher death rate than those who sat for three hours or less. For the desk jockey, death comes wrapped in a Successories Poster and waving a USB drive.
"Ah-ha!" you say. "I work out out like a beast in the gym every day and have a physique that rivals Eugen Sandow's. My hour-long, herculean effort counteracts all the sitting and slouching I do at work!"
Sorry to break it to you Mac, but your visits to the gym aren't doing much to mitigate the damage that accumulates from all that desk jockeying.
Studies have shown that consistent, vigorous workouts don't do much to offset the damage we do to our bodies by sitting down all day at our cushy Dilbert-esque jobs.
So what's a modern man to do?
If you want to live to see your future grandkids and maintain your manly physique and sense of well-being, you're going to need to stay active throughout the day.
That can be tough when you're chained to a desk filling out TPS reports or attending unproductive brainstorming sessions on how to build more "synergy." But with a little creativity, and a bit of gusto (along with a thick skin about what other people think of you), you can easily find ways to sneak some exercise into your work routine and flip the Physicality Switch of Manliness. Below we offer a few simple suggestions on how to stay active all day even if you're a white-collared desk jockey. Incorporate them into your schedule and you'll find yourself with hips as limber as an Olympic powerlifter and more energy than you had as a teenager.
1. Make Getting to Your Office a Challenge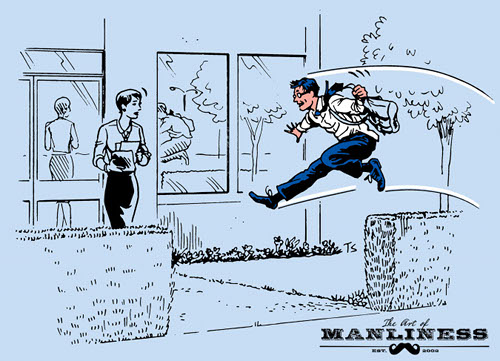 Look for ways to make getting to work and into the corporate cave a challenge. Biking to work is of course ideal. If you have to drive, park at the far end of the lot so you have to walk further to the building, carry a giant Saddleback Briefcase (those suckers are heavy) filled with your laptop and small boulders, and hurdle over small hedges as you make your way to the door. For extra challenge, throw in some parkour and scale the walls like AoM reader Jeremiah